Nakashima Propeller Co., Ltd.
Nakashima Propeller is a general manufacturer of marine propulsion equipment.
We have developed and manufactured various types of propulsion equipment utilizing technologies to create products that best suit the intended purpose.
Nakashima's advantages
From pleasure boats to VLCCs
Nakashima offers a wide range of propulsion equipment that can be used in all types of vessels including fishing vessels, pleasure boats, domestic vessels, large-size container carriers, and tankers.
Nakashima provides reliable propulsion equipment to its customers by utilizing its assets accumulated over 80 years as a specialized propeller manufacturer.
Research and development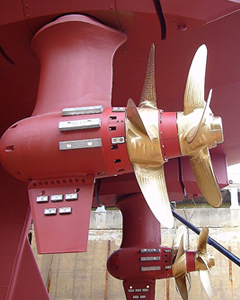 Nakashima's research and development history began with the development of a keyless propeller that has now become a standard fixed pitch propeller. Nakashima recently developed electric propulsion systems that comply with the super eco ship standards and fuel-saving propellers under the Ministry of Land, Infrastructure, Transport and Tourism's GHG emissions reduction project theme. Nakashima is currently conducting research and development activities in order to further grow as a specialized manufacturer of marine propulsion equipment.
688-1, Joto-Kitagata, Higashi-Ku, Okayama City, Okayama 688-1, Joto-Kitagata, Higashi-Ku, Okayama City, Okayama